One of the most common patterns of behaviour that I encounter is a self sabotaging behaviour towards money.
Diane is a lady in her mid 30′s. She is a very kind hearted woman and enjoys helping people. Despite her good nature and pure intention, she constantly complains that she just can't seem to prosper, no matter what she does. Every business venture that she tries seems to end in failure.
"I do not cheat and I do not lie to do business, yet I am not able to succeed in whatever I do. Perhaps people like me are just not suited for business," she says. Read more
Beliefs drive attitude and behaviour. Self limiting beliefs result in self sabotaging attitudes and behaviours that prevent us from getting what we want in life.
So the first step to self transformation and change must involve a change in our belief system. Without this change, nothing else you do will lead to a permanent change in your life.
However, we acquire most of our beliefs unconsciously. Once accepted and imprinted into our subconscious mind, it takes a conscious effort to remove and replace them with positve life enhancing beliefs. That is the reason why many gurus advocate conscious living. Read more
Our mind is to our body what the software is to the computer. It controls the body. Whatever words and deeds that come out through your mouth or your body must first be conceived in your mind. Our belief system is comparable to the computer's operating system (OS). It determines…. how we respond or react to the external world and circumstances, and what we attract into our life.
If you look carefully at yourself, you'll realise that how you respond to a certain situation is largely dependant on your core beliefs. If you believe that the world out there is a dog-eat-dog world, you'll respond in a certain way. You'll put on your guard when you deal with people around you, with a greater degree of mistrust and apprehension. This is a common mindset in the business world. Read more
A belief is merely a perception of reality.
The ancient spiritual teachers taught us that there are two types of truths – absolute truth and relative truth.
We live in a universe where everything we perceive is relative to something else. It is a relative universe. An object is big in relation to another smaller object. However, when compared to a larger object than itself, then it is small. Read more
This article is a review of a book by Dr. Michael Ryce called "Why is This Happening to me… AGAIN?". Dr. Ryce is a naturopathic doctor who has deep understanding of the healing processes, and in particular the healing of the mind.
In this book, Dr. Ryce took a look at a very prevalent pattern of repeated behavior common to all of us, and especially so to some of us. It is our habit of getting into trouble with the same type of people over and over again in our lives, or the pattern of getting ourselves entangled with the same situation over and over again. It is as though we cannot learn from our mistakes. In fact, very often we do not consider ourselves as the problem. Rather, we put the blame on that person or that situation.
According to Dr. Ryce, there is one thing that is consistently present in all of these situation – YOU! Even if you were to relocate yourself to another place or country, chances are that the problem will continue to haunt you even in that new country. This is because even after you have relocated somewhere else, YOU are still there. You bring the problem with you. You ARE the problem. Rather, it is your mental habit that is giving you this problem.
As long as you cannot see it in you, or you refuse to see it, you will continue to be plagued by the same problem. After all, whatever it is that you deny or suppress will eventually find expression into your outer experiences through a process called projection. Since this blockage of personal error is mostly unconscious, this proves to be a great challenge if you want to change your mental habit.
Fortunately, Dr. Ryce introduced a very simple and elegant tool to identify the erroneous thinking process within us. It is a 12-step worksheet called a Reality Management Worksheet. Using this worksheet, you will be able to first identify the person or situation that triggers a negative emotion in you, recognize and name this emotion, and also identify the thought that leads to this negative feeling. You will also be guided to identify the specific expectation that you wanted out of that person or situation which was not met.
It then leads you into a process of seeing that what you perceived about that person or situation is merely something you projected and not reality itself. Once you are able to recognize this, you can then let go of this projection through the process of forgiveness, cancelling or letting loose. In this way, as we work on each trigger that leads to negative feelings in us, we can gradually correct our distorted view of the world and begin to see things as they really are.
I find Dr. Michael Ryce's work to be extremely refreshing and effective in identifying our erroneous thinking, and I highly recommend that you read his book. Dr. Ryce is generous enough to give away the ebook version of "Why is This Happening to me… AGAIN?" for free. You can visit his website to read all about his work and writings, and to download the free ebook and worksheets at WhyAgain.com
Self fulfilling prophecy is a concept developed by the American sociologist, Robert K. Merton, to explain how a belief or expectation, whether true or not, affects the outcome of a situation or the behavior of a person or group. In other words, what we expect is often what we get.
According to this concept, we form certain expectations of people or events and either consciously or unconsciously convey those expectations with various cues and signs, either in the way we talk or behave, that led to people adjusting their behavior to match those expectations. The result is that the original expectation becomes true.
This self fulfilling prophecy concept has been verified by many experiments and observations, and if we look at our own lives we can often see it happening in our lives in various situations. For example, parents who believe that their children will not do well in school tend to make it come true by reducing emphasis on the importance of school work to their children and accepting poor grades from them. On the other hand, parents who believe their children can excel in school will create a home environment suitable in promoting reading and knowledge, emphasize the importance of school work and generally will not tolerate poor grade from their kids. All these will eventually propel their children to excel in school.
In short, higher expectations lead to higher performance. Likewise, lower expectations lead to lower performance. In addition, better performance from higher expectations lead us to like someone more, and poorer performance from lower expectations results in us liking someone less. Thus, not only does the self fulfilling prophecy come true, it leads to a virtuous or vicious cycle.
It is especially important for parents and teachers to be aware of this phenomenon as their attitudes are often the very factor that will determine the outcome of the children they care for. For example, teachers often communicate their expectations unconsciously by:
* Seating low expectation students far from the teacher and/or seating them in a group
* Paying less attention to lows in academic situations (smiling less often, maintaining less eye contact, etc.)
* Calling on lows less often to answer questions or to make public demonstrations
* Waiting less time for lows to answer questions Not staying with lows in failure situations (e g. providing fewer clues, asking fewer follow-up questions)
* Criticizing lows more frequently than highs for incorrect responses
* Praising lows less frequently than highs after successful responses
* Praising lows more frequently than highs for marginal or inadequate responses
* Providing lows with less accurate and less detailed feedback than highs
* Failing to provide lows with feedback about their responses as often as highs
* Demanding less work and effort from lows than from highs
* Interrupting lows more frequently than highs
Here is another example of how self fulfilling prophecy may play out in the office:
Once expectations are formed, they tend to be self sustaining.
Self fulfilling prophecy applies equally to our own expectations of ourselves. If we believe that we cannot succeed in a certain project or situation, the likely outcome is that we will not try hard and therefore dooms the project to certain failure. On the other hand, if we expect ourselves to do well in certain tasks, we will often rise to the occasion.
This concept once again shows us the importance of self awareness. Being aware of our thoughts and attitudes towards certain people or situations allows us to examine the validity of those thoughts, and to adjust them appropriately to get the desired results. Mindfulness brings this unconscious mental habit into conscious awareness, thus providing an opportunity to change it.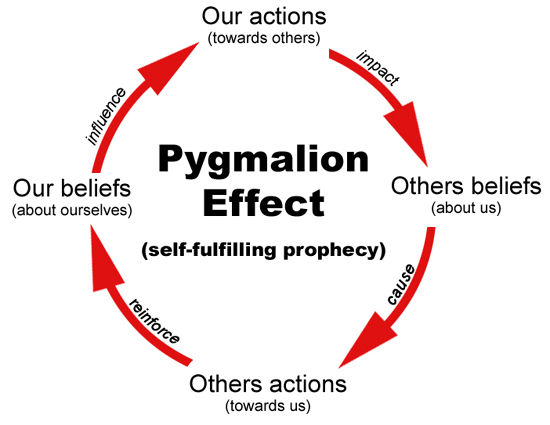 Today I want to talk to you about beliefs. There are also 2 free pdf booklets you can download. The link is at the bottom of this article.
What is a belief?
A belief is a thought you hold in your mind that you believe to be true. In reality, a thought is only a thought, nothing more. A thought is neither true nor false.
So how do we come to believe a thought as true? Through our mental filters – our assumptions, beliefs, concepts, desires, expectations – and built upon our past experiences.
A belief can also be said to be a perception of reality. A belief is just a perception, not the reality. It is how we interpret or see reality but not actually real.
However, once we buy into a belief, we feel and act according to the belief. The belief becomes real to us.
For example, I just had a consultation with a young lady in her twenties. She walked into my consultation room with tears in her eyes, obviously worried and concern about her illness. When I asked her what was bothering her, she complained that she was having diarrhea, vomiting and stomachache, and she fears that she may have the swine flu. That was why she was in tears. She was afraid that she might die from a swine flu infection.
Once I explained to her that her symptoms are due to food poisoning and not swine flu, she calmed down. Her fear subsided. Her body became more relaxed. You can see that a heavy load was just lifted from her shoulders.
All these from a false belief!
We should not be laughing at her silliness because we do the same thing to ourselves all the time, only in different degrees. And when we do, which is just too often, we set ourselves up for fear, pain, sufferings, despair.
So the next time you start to feel bad or sad or fearful, challenge your thoughts. What thoughts do you believe in right now? When you delve deep into your thoughts and see them honestly for what they really are, you will find that you are holding on to a false belief.
Here is a good rule of thumb:
"Where there is fear, there you will find a false belief."
Now, here is the link to download 2 free pdf booklets:
http://theselfimprovementsite.com/bonuses/Transformation/
The booklets are:
Suffering is Optional
Personal Transformation Tools
The transformation tools are tools that I have personally used for my own personal and spiritual growth. I find them very effective and would like to share them with you.
If you used them and find them effective for you, you can share them with others.
Till next time, be happy.
Here's a short video presentation on the work of Byron Katie which I found to be very clear and concise. I like Byron Katie's work because it is a very simple and direct method to bring insights and self realizations. However, you do need a lot of courage and self honesty for this inquiry work.
1. Suffering is optional. While suffering is quite real in our lives, there is a state that is free from suffering and it is possible to achieve it. Since there are two possible states – one with suffering and one without it – we have a choice but this choice is only available to us when we have the wisdom and insight to see it.
2. Suffering is mental. While pain may be unavoidable in our physical body, we do have a choice not to suffer from it. In my work as a doctor, I have seen patients who experienced similar bodily pain, yet one may suffer more than the other. The one who suffers more is the one whose mind is totally absorbed in the pain, creating stories around it and embellishing it with all kinds of fear.
3. Suffering is an error in thinking. It arises out of a wrong view, belief, perception or thought. When our thought departs from reality (from what is) or when we want things to be other than what is, then we suffer.
4. Resisting reality is futile. No matter how hard we try to resist reality or want things to be other than what is, we will fail and suffer for it. The more we resist, the more we suffer as we are going against the flow of what is.
5. We resist out of ignorance. We believe the story we created around our experience. We do not realize that our views are wrong. In truth, no belief is true. No perception is real.
6. A belief is merely a perception of reality. We must realize that our perception has severe limitations. There are at least 3 ways our perceptions are limited.
a. We are first limited by the limits of our sense organs. We see light only between a specific range of wavelengths and cannot perceive those beyond this range. In addition, the way our eyes are structured allows us to see an image that is different from that seen from the compound eyes of a fly. Our other sense organs are similarly limited.
b. Secondly we are limited by our perspective. We can see things only from a specific point of reference, very much like the story of the blind men and the elephants.
c. Lastly, we see things through our own filters. These filters are our mental prejudices, concepts, assumptions, beliefs, experiences and ideas. It is like a camera catching a shot through a certain filter, changing its original colour.
With so many limitations to our perceptions, how can we be absolutely sure that our perception is true? Is it not more likely to be wrong?
7. We are deceived by our thinking mind. Our thinking mind is coloured by our ego or self, rich with its own experiences, assumptions, beliefs, concepts, desires and expectations. Ultimately, our thinking mind itself is limiting our life experience. It locks us into a self created reality, a world of our own creation – an illusion of reality.
8. We can live intuitively beyond the ego-mind. Beyond this thinking mind is another that serves us intuitively. It has the ability to dip into the all-knowing, all-pervading universal mind. It is free from judgment and prejudices, and is therefore free from error.
9. There is no suffering in this mind. Living like the lotus is then possible – to be in this world but not of this world. We can then live in this physical mundane world and still not be afflicted by it.
Recently I had the good fortune to attend a self discovery workshop conducted by a monk, Bhante Kumara of the Sasanarakkha Buddhist Sanctuary in Taiping. The most impressive part of the workshop was the last portion of the workshop, which was based on the Work of Byron Katie.
Katie's work is focused on eliminating sufferings by understanding and seeing the true cause of our sufferings. The work is revealing as it shows us the error of our thinking, beliefs and perceptions, which is the root cause of our sufferings.
Katie has come up with a structured tool that makes it very easy for us to recognize these errors within us using this Judge Your Neighbor worksheet [right-click to download]. You can also download this worksheet from http://thework.com
To see the Work in Action, go to http://thework.com where there are short video clips of Byron Katie in action.